Doctors & Staff
Meet our experienced doctors and staff.
Dr. Benjamin Foreman
Dr. Foreman received his undergraduate degree in chemistry at King's College, and then went on to earn his Doctor of Optometry degree at the esteemed Pennsylvania College of Optometry. He graduated with high honors, and has extensive experience in managing medical eye problems such as diabetes, glaucoma, and dry eye.  He also has special interests in hard-to-fit contact lenses and pediatric eye care.
Dr. Foreman lives in Willow Grove with his wife, Emily, a CHOP pharmacist, and their three young children, Mary, Luke, and Elizabeth. He is involved in his local parish, and plans to become more involved in the local community. Dr. Foreman enjoys playing golf with his brothers, playing basketball at the Y, and spending time with his extended family.  Dr. Foreman is an active member of the Bucks-Montgomery Optometric Society and the Pennsylvania Optometric Association.
Affiliated & Co-managing Doctors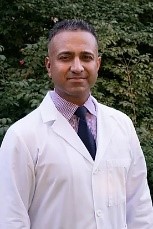 Deepak Grover, DO (pictured)
Cataract & Neuro-ophthalmology Co-management
George Pronesti, MD (pictured)
Marlene Moster, MD
Robert Kleiner, MD
Retinal Disease Co-management
Lynn Trieu, OD
Angela & Samantha
Our friendly and experienced staff members will be happy to take your phone calls, welcome you to the office, perform testing recommended by the doctors, and help you select your glasses.  They also are available to answer any questions you may have regarding your insurance or visit to our office.
We hope to see you soon!!