Doctors & Staff
Meet the experienced and friendly doctors and staff who make Foreman Eye Associates the leading provider of vision care products and services in Plymouth Meeting.
Dr. Benjamin Foreman
Dr. Foreman received his undergraduate degree in chemistry at King's College, and then went on to earn his Doctor of Optometry degree at the esteemed Pennsylvania College of Optometry. He graduated with high honors, and has extensive experience in managing medical eye problems such as diabetes, glaucoma, and dry eye.  He also has special interests in hard-to-fit contact lenses and pediatric eye care.
Dr. Foreman lives in Willow Grove with his wife, Emily, a CHOP pharmacist, and their three young children, Mary, Luke, and Elizabeth. He is involved in his local parish, and plans to become more involved in the local community. Dr. Foreman enjoys playing golf with his brothers, playing basketball at the Y, and spending time with his extended family.  Dr. Foreman is an active member of the Bucks-Montgomery Optometric Society and the Pennsylvania Optometric Association.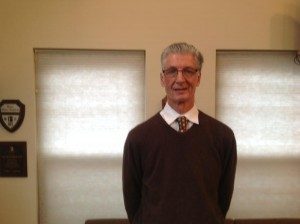 Dr. Gary Litman
Dr. Litman has been serving the Plymouth Meeting community for over 30 years.  He continues to see some of his long-time patients on Friday mornings at the office.  Like Dr. Foreman, he experienced in the management, diagnosis and treatment of ocular disease, as well as LASIK and cataract co-management.
Anyone who knows Dr. Litman knows he can out quote even the best Seinfeld enthusiasts.  He enjoys going to the movies, relaxing at home, and dabbling with the newest and latest computer technologies. During baseball season, he cheers on the Phillies.
Angela & Maria
Our friendly and experienced staff members will be happy to take your phone calls, welcome you to the office, perform testing recommended by the doctors, and help you select your glasses.  They also are available to answer any questions you may have regarding your insurance or visit to our office.
We hope to see you soon!!